SUMMER LIFT OFF!
Do you want the opportunity to create and perform in a theatre, make new friends and have lots of fun this summer? 
East Riding Theatre's Summer Schools are back and this year there is something for everyone!
Young people will develop skills and improve their confidence in acting, movement, singing and even circus skills! No experience is necessary – just plenty of enthusiasm and a commitment to taking part, having lots of fun and making new friends.
This is a unique opportunity to take part in creating an original piece of theatre and performing it on a professional stage. 
This year's summer lift off will be led by director Mike Friend who has worked in performing arts education all his life. He was the founder and director of Performing Arts at Hurtwood House for 14 years, has directed national productions for Stagecoach and currently works at the Lyttelton Arts Factory in New Zealand. Mike has established an education programme that has over 140 students in music, theatre and dance. Mike has also had a long relationship with ERT and directed Christmas Carol, Oliver Twist and Sparrow.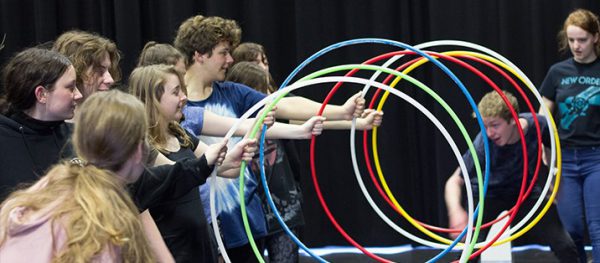 "Working with Mike on the summer schools was an inspiring and exciting experience that massively boosted my confidence on and off stage."
– Evie Guttridge
"Working with Mike was a great opportunity, he treated you with respect and allowed you the freedom to experiment as an actor, whilst harnessing your potential"
– Oliver Cooper
"Working with Mike was an absolute pleasure. He has a way of working that really pushes you to explore your capabilities as a performer whilst learning a great deal of new skills. Mikes vision is fantastic and I can't wait to see what he will do next!"
– Rebecca Gutherless
Free places are available to children and young people on application to:
charlotte@eastridingtheatre.co.uk or via ERT's FB messenger.
Please note: We currently have no wheelchair access onto the stage.
Schedule for this week: