The Arts Council England announced that it was their 75th anniversary this week. To celebrate, our Administration Assistant Charlotte wanted to share her memory of the the Arts Council funded show Chippy, which inspired her future career in the world of theatre.
"Thanks to ACE I was taken on at East Riding Theatre as an intern during my second year at uni studying Music. This was my first experience of working in a professional theatre and I was involved as an administrator in the production of a new play Chippy. The Arts Council funded this project and one of my most important learning experiences was that of changing from one ticket system to another. This generated my interest in theatre management as a working environment where I could meet incredible people, and find out what it really takes to put something as wonderful as Chippy on stage.
I have always loved the theatre and I have so many happy memories of going with my family. However I didn't realise I had a passion for working in one until that internship which led to one day per week employment during my third year and the prospect of a full time job once I graduated. Covid almost prevented me from pursuing my career but the Cultural Recovery Fund Round 1 provided the theatre with funds to employ me. During closure my main focus was concentrated on fully understanding the box office system, and raising funds for the theatre. Day to day my tasks varied and my skills increased and although I worked remotely, I was fully supported by my manager.
The theatre has just offered me full time employment from September. My responsibilities are to support the theatre manager and building operations. Without the opportunity provided to me by ACE, I would be a graduate looking for a job.
Thank you!"
Written by Charlotte Denston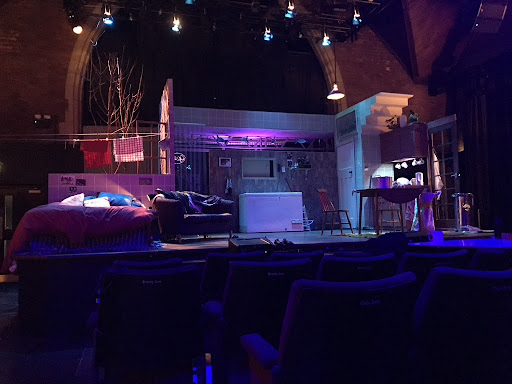 Image taken by Charlotte of the Chippy set